Rise Brewing
$15 off purchase of $34.99 or greater.
RISE Nitro Cold Brew – Our coffee is organic, non-GMO, non-dairy, and low acid. Think a super light, refreshing stout beer meets iced coffee with a frothy head. An infusion of nitrogen gives RISE its distinctive, creamy cascade.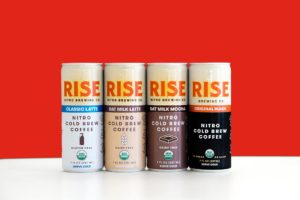 The Fine Print
Expiration date: December 31, 2020, at 11:59pm PST
Offer is only available to orders shipping to addresses in the United States (including Alaska and Hawaii)
By selecting this offer during registration, you are opting-in to receive emails from Rise Brewing. Rise Brewing will email you your offer code within 7-days of registering for the Double-Down Challenge.