Participant Information
The Health & Fitness Expo is located adjacent to the Start/Finish line, in the main plaza of the Fairgrounds at Fairplex on Saturday and Sunday. Admission is free.
Dates
Saturday, December 14th – 7:00 am to 12:00 pm
Sunday, December 15th – 6:00 am to 12:00 pm (Packet pick-up open from 6 a.m. – 8 a.m.)
Location
Main Plaza of the Fairgrounds at Fairplex
1101 W McKinley Avenue
Pomona, California 91768
Parking
Fairplex through Blue Gate 9 which can be accessed from White Avenue.
There is a $12* parking fee which is good for both days.
*Parking fee may change at anytime without notice. The Fairplex accepts cash and card.
Packet Pick-Up
In order to pick your race bib and shirt up, you will need just need a photo ID.
If you plan on picking another participant's bib up, they will need to sign their waivers online before you arrive. To sign their waivers, please have them log into their myevents.active.com account. You will also need a copy of his/her driver's license or photo ID.
Want great exposure to the active lifestyle runner market? Join us at the Health & Fitness Expo which takes place in the main square outside the Exhibit Halls at Fairplex So Cal:
Saturday, December 14 – 7:00AM to 12:00PM
Sunday, December 15 – 6:00AM to 12:00PM
We are always looking for fun and high impact ways to partner with other companies and brands. If you have a product or service you think will fit into our event, we can work with you to make the most of it! Please email us for more information.
For Partnerships, please contact the 
Holiday Half and Ugly Sweater 5K Sponsorship Team
.
For Expo & Products, please contact the
Holiday Half and Ugly Sweater 5K
Expo Team
. Our 2019 layout is coming soon!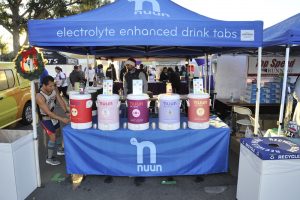 Become a Partner
Sponsorship information for the Holiday Half & 5K is available by contacting our sponsorship team.