5K IMPORTANT DETAILS You Need To Know Now
5K starts at 7:30 with the half marathon
Line up in your assigned color wave at the same time as half marathon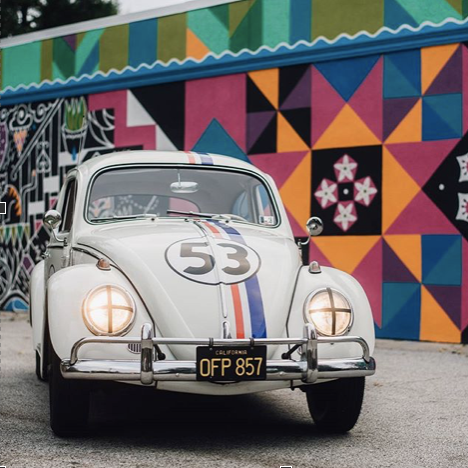 The 5K race will be lead by…you guessed it!
Herbie the LOVE Bug! So runners if you're leading the 5K follow Herbie (and our lead bikes wearing 5K official vests).
Herbie the LOVE Bug will be available at the finish festival for free selfies!
•The 5K takes place on the half marathon course and its entirely in the city. #allcity5K
There are two points where the 5k runners will split from half marathon runners:
  Split point #1: At the 1.7 mile mark. On Penn Sq Rd as runners are going around City Hall 5k runners will be directed by overhead signage and volunteers into the coned off LEFT lane. At Juniper St and Market St 5K runners stay straight and Half runners turn right onto Market St.
  Split Point #2: At the 2.9 mile mark. On Ben Franklin Parkway as runners pass start 5k runners will be directed by overhead signage and volunteers into the coned off RIGHT lane. At Eakins Oval 5K runners stay straight toward finish and Half runners bear left onto MLK Dr.
5K runners will be given a special tag to pin to the back of your running shirt. This allows other racers and race staff to identify 5k vs half runners at the split points.
5K FINISH MEDALS
ATTENTION HALF MARATHONERS
Please note if you switch to the 5K on site at the expo you will wear your half marathon bib and receive a half marathon finish medal & you'll get the awesome long sleeve half marathon tech shirt (not the 5K shirt).
Please do not take a 5K finish medal as well (our team will be checking bibs in the chute if you do not have a 5K bib you will not be able to get that medal).
Let's have an unforgettable race weekend!
Register Now
March 31, 2019
Voted Best Half Marathon, Best Swag, Best Race Shirt. Register Now for Philadelphia's Best Spring Half Marathon!
Register Now
Event Partners
We're proud to partner with these great brands to bring you an incredible event experience. Whether you're drenched in sweat, dressed in costume or immersed in music, you've worked hard to get there and deserve to have the best time possible.