Herzig, Knast win 2019 Love Run Philadelphia Half Marathon
Brandon Jarrett, Cassandra Tripaldi win 7k; 2019 marks largest event in the Philly Love Run's 6-year history with 11,000 runners; Eagles Quarterback Carson Wentz supports wife at starting line; Surprise engagement at the finish line highlights annual event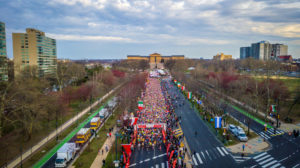 The city of Philadelphia rolled out the red carpet for thousands of runners at Sunday's 6th annual Love Run Philadelphia Half Marathon on Sunday, March 31, 2019. The annual race, which routes participants through the most scenic parts of Philadelphia's downtown city center, kicked off under partly cloudy skies with ideal temperatures in the 50s.
Matthew Herzig of Weston, MA prevailed in the 13.1-mile half marathon in 1:08:15. His nearest Zachary Barker, finished over a minute behind in 1:09:16. Third place was awarded to Philadelphia local Jason Ayr, who ran 1:09:25.
"I started out with the lead pack, which dwindled down to the top three and we ran most of the way together," said Herzig. "I was feeling good and tore away towards the end to come away with the victory."
It was a locals sweep in the women's race, Stephanie Knast averaged sub 6-minute miles to win in 1:18:19. Second and third place went to Jessica Fragola (1:19:28) and Kinjal Parikh (1:20:25) respectively.
A 7k was held in conjunction with the half on Sunday. 18-year old Brandon Jarrett was the first runner to cross the finish line in 24:59.
"At first I didn't even realize I had won," said Jarrett, who grew up in Philadelphia and currently lives nearby in New Jersey. "I've been doing lots of training this week and I didn't think I'd do as well as I did. Just a great race and a beautiful course, it's certainly one that I would run again.
29-year-old Cassandra Tripaldi of Pennsylvania won the women's 7k, clocking 26:52.
Top runners aside, Sunday's race in Philadelphia was an incredible party with good times all around thanks to the near-perfect running weather. Philadelphia Eagles Quarterback Carson Wentz was spotted at the start line cheering for his wife, who was running in the half-marathon. And in true Love Run-fashion there was a surprise marriage proposal for one lucky couple at the finish line.
The Philadelphia Love Run is a convenient destination event with the start line and finish line festival all taking place just steps away from the iconic Philadelphia Museum of Art. Featuring a world-class route that showcases the scenic downtown Center City, race day began at 7:30 a.m. with the half-marathon and 7k. Runners enjoyed one of the most scenic race courses in the United States with spectacular views along the route. With complimentary beer from Coney Island Brewing Co. for athletes 21+, music and thousands of spectators, it's truly Philly's best Spring half-marathon.
The 7th annual Love Run Philadelphia Half Marathon will take place on Sunday, March 29, 2020.
Registration Opens on 10.1.20
Race Philly's Biggest and Best Spring Half Marathon!
Yo Philly! This is your chance to be part of the biggest, most amazing kickoff to spring in Philadelphia.