Always All In – Vinny Carrano
Vinny Carrano is a familiar face in Philadelphia's fitness circles. If you live in Philly and work out with any regularity you've probably seen this 35 year old Pottsville, PA native leading group workouts for November Project;  conducting high-intensity interval training at rock climbing gym, The Cliffs at Callowhill; boisterously cheering on his teammates to help them conquer that brutal, uphill final quarter mile of the Philly Marathon (and Half..); or, more recently, personal training at F45 Training Center. Regardless of the venue, Carrano always brings high energy and good vibes.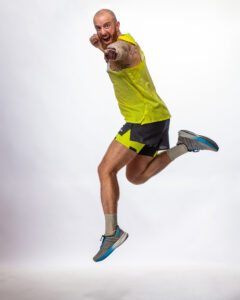 Carrano knew early on that he wanted to join the military and enrolled in the Marine Corps just eight days after graduating high school. He had two deployments during his four years with the Marine Corps infantry —one in the Mediterranean, the other in Afghanistan. But Carrano doesn't convey the stereotypical hardass vibe attributed to so many combat veterans—with the exception of the challenges he puts his body through.
"I always like to go all in with stuff. When I find things that I'm passionate about, I lean into them and really give it my heart. I think that sometimes we need to look around and find our passion; follow your heart. When I got out of the Marine Corps, I promised myself that whatever I did, whether as a hobby or a career, I'd do it with passion. And so far I've held that promise to myself."
Following his military service, Carrano earned a degree in criminology at Penn State, taking advantage of the GI Bill. He then ventured into fundraising, working as a campaign manager for the Leukemia & Lymphoma Society, the connection there being the loss of his older sister when he was seven.
"In 1994, my sister Lauren was diagnosed with leukemia. She battled for two years and passed away in 1996. She was nine when she passed away; her death may have planted the seed to do good. My family, we fundraised a lot of money. We had our local Relay for Life that we got really involved with. We were the top fundraising team every year because we were the local family, we were kind of well-known just for my sister's journey in that area."
His fundraising also branched out into organizing events like Big Climb Philly—which is kind of the sprint version of the PHL24, running as fast as you can from the bottom floor to the top Comcast tower in one shot. Eventually Carrano started exploring personal training which led him to November Project, whose "we're weatherproof" workout mindset he vibed with immediately—so much so that he became co-leader of their Philadelphia Chapter for five years. He recently stepped down from that position to work full time as a personal trainer at F45 Training Center.
In March 2024, Carrano will run the Philadelphia Love Run Half Marathon as a Legacy of Hope sponsored athlete. His love for running emerged during his Marine Corps days, leading to participation in marathons and trail races. His experiences as a sweeper in the Marine Corps Marathon gave him a unique perspective on the dedication of both front and back-of-the-pack runners.
Carrano's interests extend beyond running, as he is an avid rock climber. He started climbing at 15, guided by a neighbor who introduced him to outdoor sport climbing.
Throughout his life, Carrano has embodied a favorite quote of his (which he has tattooed on his body) "It's not the years in your life, but the life in your years." It's not only descriptive of his character but also a fitting tribute to his sister, Lauren, who had a profound impact on his life. Regarding his sister, Carrano shares "She had nine short years in her life, but here I am talking about her 18 years later. She had such an impact on me and my family and on so many people."
Vinny stresses the importance of passion in all aspects of life, which he exemplifies by following his heart and finding what truly drives him. His passion is complemented by lessons from his time in the Marines, focusing on trust, discipline, and leading with an open heart and an open mind.
You can support Vinny's fundraising efforts by donating here. If you'd like to run with Vinny in the 2024 Philadelphia Love Run, register for the half marathon or 7k here, and then complete your Philly Runs Free form, which sets up your Legacy of Hope fundraising page. Your registration fee will be waived after you raise only $250 for Legacy of Hope.
Love Run Philly Now Open
Race Philly's Biggest, Best Spring Half Marathon
Yo Philly! This is your chance to be part of the biggest, most amazing kickoff to spring in Philadelphia AND race Philly's only half marathon from January - June.
Register Now